Joe and Bev met at new Life Presbyterian Church in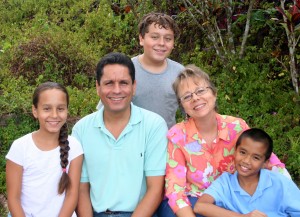 Glenside, PA, while Joe was studying for a master of divinity degree at Westminster Theological Seminary and Bev was working as a nurse in a Philadelphia hospital.  Joe was preparing for teaching opportunities overseas after graduation and Bev had been on various short-term mission trips prior to meeting Joe.  So, when they married in 1995, they pursued missions together.
In 1999, the couple joined the Mission to the World Philippines team in Manila, where Joe taught Old Testament at Presbyterian Theological Seminary and Bev joined visiting medical teams in outreaches to slum areas.
Upon hearing about ministry needs in Puerto Rico, the homeland of Joe's mother, the Lord opened the way for relocation in 2006.  Joe has completed a doctor of ministry in pastoral counseling from Westminster Seminary and is teaching Old Testament and counseling in various seminaries and church-based study centers.  Joe and Bev are also involved with Briarwood Presbyterian Church's San Juan church-plant, La Travesía (The Journey).  Bev and the kids tutor at a local public school.
They have three children, Joey, Anna, and Justin.