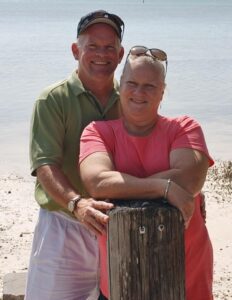 Rev. Randy Patterson has served as our Senior Pastor since December of 1998.
He was born and raised in Miami, Florida and attended Miami Killian High School (Class of 1974). He graduated from Florida Bible College in Hollywood, Florida in 1978 with a BA in Biblical Education. He graduated from Westminster Theological Seminary, in Philadelphia, PA with a Master of Arts and Religion degree in 1981 and from Florida Theological Center (an extension of Westminster Theological Seminary) with a Master of Divinity in 1983.
Randy and his wife, Maggie, met in high school and shared a passion for Jesus Christ. They were married at Granada Presbyterian Church, Coral Gables, FL in 1976. God has blessed them with four children, two foster children (all grown) and ten grand-children (all growing!).
Randy also serves on the board of Living Stones Ministries and is a regular teacher and preacher in its ministries in Haiti. Prior to coming to Seacrest, he was the Senior Pastor of Lakeview Orthodox Presbyterian Church in Rockport, Maine from 1983 to 1998.
Inspirational Scripture
" Trust in the Lord with all your heart, and do not lean on your own understanding. In all your ways acknowledge him, and he will make straight your paths. "
— Proverbs 3:5-6